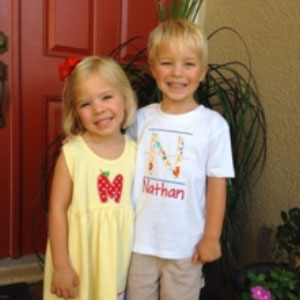 Nathan and Madelyn 2014-15
One year ago, I had just started a brand new job and, therefore, was writing my first blog for OCM BOCES Instructional Support Services. I was thinking about new beginnings, the excitement and challenges of change, and the promise of the new school year. I was also thinking about how much I love back to school photos… which is something that I suspect will never change!

Image:
www.procon.org
As I write and reflect today, I am truly astounded by the amount of learning that has occurred in these last 365 days. I recently read a quote by John Cotton Dana that states "Who dares to teach must never cease to learn." Ours is a field that requires us to always be open to acquiring new knowledge, digging deeper into what our students need to know and be able to do, and implementing different approaches. There is no such thing as "auto-pilot" when there are actual human beings involved, especially as we continue to grapple with the expectations of the Common Core Learning Standards. We are challenged with the charge to not only grow professionally, but also instill in our students a passion for thinking and learning (the quote by Confucius really highlights for me the powerful connection between the two).
At this point, you may be thinking something like "Oh, sure! That sounds easy." Or, "Yes! I'll just instill a deep passion for thinking in my classroom." Or perhaps, "My students are always telling me how much they love to think." No? That's not what you're thinking? Ok. The question, then, becomes: "How do we ensure that students (all students) are the ones doing the thinking and learning in our classrooms?" During the July Network Team Institute, educators from around the state gathered together to read, write, think and talk about that very question. Here are some of the things that we learned:
Move away from "monologues". Try other forms of discourse such as Reflective Discourse, Dialogic Instruction, Initiate-Respond-Evaluate, Initiate-Respond-Follow-Up, and Peer to Peer Discourse as discussed in Background Information on Classroom Discourse (found in the hand-outs section of the link).
Observe instruction (or reflect on your own instruction) and "track" who is doing the thinking: the teacher or the students? How do you know? Use the following graphic organizer (found in the hand-outs section) to help you in this process.

I hope your first few weeks back are off to a wonderful start. Here's to another year full of thinking and learning for all of us!
Catie Reeve
Instructional Support Services
CReeve@ocmboces.org